2019 LEXUS RX 350 VS 2019 MERCEDES BENZ GLE
In the luxury SUV class, there are two standout models that should meet the needs of almost every driver: the Lexus RX 350 and the Mercedes-Benz GLE. If you're ready to invest in a luxury automobile, these SUVs make great options, but since you can only drive one, it's a smart idea to compare them one-on-one to see which will best fit your lifestyle.
Pricing
Pricing is likely the first thing that you consider when purchasing a new automobile, especially when you're buying a luxury model. Taking a look at the starting Manufacturer's Suggested Retail Price (MSRP) of the RX 350 and the MB GLE can be a good way to get an idea of which model you should select.
Expect a starting MSRP of $55,700 with the GLE, which is a very good price for a luxury automobile. If you want an even more affordable vehicle, however, you should pick the RX 350. With this Lexus, you'll have a starting MSRP of $43,570, which means you can spend extra money on advanced features.
Measurements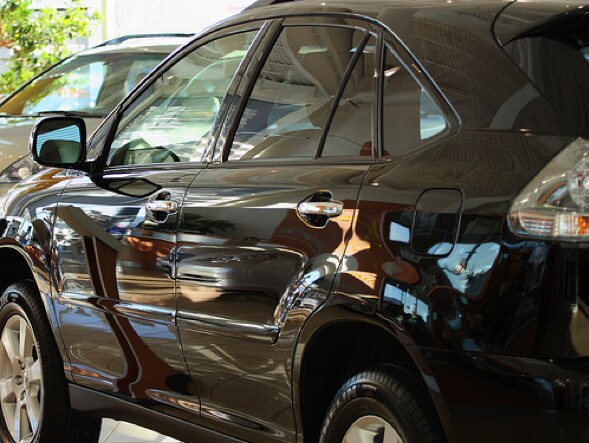 Image via Flickr by AlexDixon
When you hit the road for your daily commute, you want to know that you'll have enough space so that you won't feel cramped. If you're still not sure whether you should drive the RX 350 or the GLE, comparing their 
MEASUREMENTS
  may make your decision a lot easier.
In particular, the RX 350 offers considerably more front-seat legroom than the GLE. In the GLE, for instance, you'll have 40.3 inches of legroom when riding to the front row. The RX 350 provides nearly 3 inches more room to stretch out your legs, featuring 44.1 inches of space.
Another factor to keep in mind with these two models is that the Lexus provides more seating options. The current MB GLE is only available with two rows that can seat up to five passengers. The RX 350 also comes standard in this configuration but is available in a three-row version capable of seating up to seven.
Safety and Security
Before making your final decision between the Lexus RX 350 and the MB GLE, you should take the time to research the 
SAFETY FEATURES
  offered by both of these vehicles. Each model offers a large selection of active safety equipment, and both provide signature features that you should be sure to consider.
Attention Assist is one of the most noteworthy safety features of the GLE. This system can detect when you're distracted or fatigued and will alert you so that you can put your attention back on the road. This model also offers standard features, such as active brake assist and a rearview camera.
The RX 350 comes standard with
Enform Safety Connect
, which allows you to get assistance when your vehicle breaks down, your car is stolen, or you've been in a wreck. You'll also have access to a variety of optional safety features, such as vehicle proximity notification and a blind-spot monitor. Finally, the Lexus comes standard with 10 air bags, one more than the nine standard air bags of the GLE.
With more attractive pricing, additional seating and front-seat leg space, and a range of safety features, the Lexus RX 350 came out on top of the MBE GLE. Test drive the Lexus today at 
HENNESSY LEXUS OF GWINNETT
.