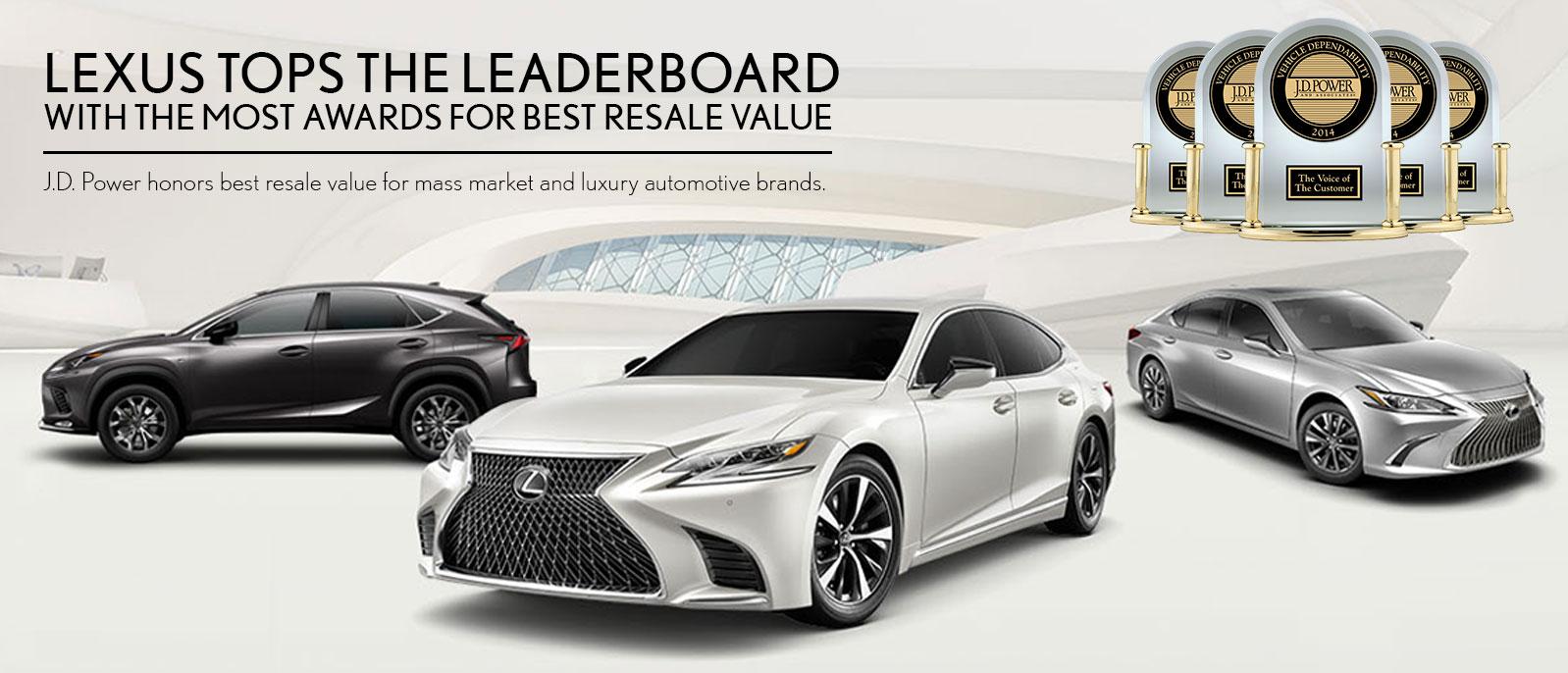 J.D. POWER HONORS BEST RESALE VALUE FOR MASS MARKET AND LUXURY AUTOMOTIVE BRANDS
J.D. Power honored Lexus Automobiles with the most awards for best resale value across all categories. The 2018 J.D. Power Resale Value Awards were presented to automotive manufacturers, recognizing the best resale value across 24 model-level vehicle segments.
"This marks the first time J.D. Power is utilizing our transaction database of customer insights to recognize brands and models with the best resale value," said Jonathan Banks, Vice President of Vehicle Valuations & Analytics at J.D. Power. "We conducted this analysis to provide consumers with a resource that informs them of the depreciation cost they incur when purchasing a new vehicle, thus providing insight on the value of their purchase."
MODEL-LEVEL RESALE VALUE AWARDS
Lexus leads the leaderboard with the most model-level awards with 5 awards, followed by Honda and Toyota with 4 awards each. 
Lexus: Lexus IS; Lexus NX; Lexus LS; Lexus GS; and Lexus GX
Honda: Honda Civic; Honda Accord; Honda Odyssey; and Honda Fit
Toyota: Toyota Tundra; Toyota Tacoma; Toyota 4Runner; and Toyota Sienna
Porsche: Porsche Cayman; Porsche Boxster; and Porsche 911
Subaru: Subaru WRX and Subaru Crosstrek
Dodge: Dodge Charger and Dodge Challenger
For the 2018 award process, 244 vehicle models were evaluated using a sample of over 650,000 transactions with an average of 3,500 data points assessed on each vehicle. The award selection process utilizes used vehicle wholesale prices, which represent how much a dealer buys a used vehicle for. These prices are then divided by the vehicle's original purchase price. These calculations are based on wholesale records from January through June 2018 for vehicles that are three years old. For the 2018 calculation, 2015 is the applicable model year.
CLICK HERE TO READ THE FULL ARTICLE.