LEXUS LS 500 VS AUDI A8
If you want the best driving experience of your life, purchasing a luxury sedan is an excellent choice. Although several fine luxury models are available, two of your two best choices are the Lexus LS 500 and the Audi A8. Here's some information about both of these vehicles that will help you decide which will best fulfill your daily transportation needs.
Performance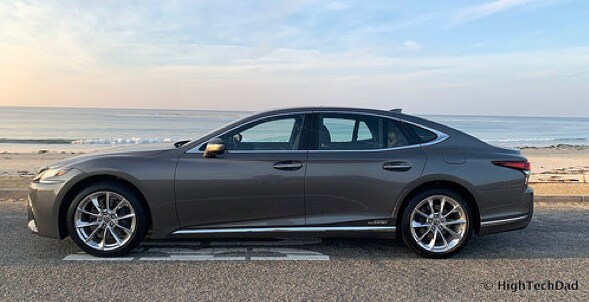 Image via Flickr by HighTechDad
When you're trying to choose between two first-rate luxury sedans, comparing engine performance is one of the easiest ways to make your purchasing decision. Cars like the LS 500 and the A8 offer excellent powertrain options, but there are some differences in their ratings.
In the Audi, you'll be powered by a 3.0-liter turbocharged engine that puts out 335 horsepower and can go from 0 to 60 in 5.6 seconds. While these figures are impressive, they don't hold up to 
WHAT YOU'LL FIND IN THE LS 500
. This Lexus model comes equipped with an exciting 3.5-liter V-6 engine that produces 416 horsepower and can take you from 0 to 60 in an ultrafast 4.6 seconds. So when it comes to raw engine power, the LS 500 is clearly the luxury sedan of choice.
Luxury & Convenience
While on the road in your next sedan, you want to make sure the entire trip is comfortable and relaxing. Fortunately, both the Lexus LS 500 and the Audi A8 offer a range of luxury and convenience features you're sure to enjoy. The A8 offers comfort features in both the front and the back. Front seats offer 22-way power adjustment, heating, ventilation, and massage. There is also an optional rear relaxation seat with a foot massager.  In the LS 500, you'll find more superior comfort features. For instance, front seats are also available with heating, ventilation, and massage, but provide 28-way power adjustment. This sedan also offers a class-leading rear seat reclining angle that helps back passengers stretch out and relax. 
Safety & Security
Before choosing your next automobile, it's important to research available safety features. With brands like Lexus or Audi, you'll have access to some of the best active safety features in the luxury class, making every drive worry-free. With the A8 Driver Assistance package, you'll receive features that make driving around town easier. The turn and intersection assist system can detect oncoming vehicles when you're trying to turn across an intersection, and adaptive cruise assist makes controlling your speed easier on highway drives.  The 
LS 500
  comes standard with an advanced safety suite that includes a number of excellent features. Intelligent high beams activate automatically when the light gets low to maintain your visibility, and a pre-collision system helps you avoid potential wrecks. Other safety features that come standard on the LS 500 include lane assistance, dynamic radar cruise control, and road sign assist. 
Although the Audi A8 is an excellent vehicle, it doesn't match up to the Lexus LS 500, which is your best choice for a luxury sedan. 
TEST-DRIVE THIS VEHICLE TODAY
  to see for yourself.