2020 LEXUS LX 570 VS. 2020 BMW X7 xDrive40i
Performance
How each SUV performs will be a big factor when making your choice about which vehicle comes out on top. The BMW certainly proves itself as worthy competition, but it doesn't quite match up completely. Here's a quick look at how the two SUVs stack up against each other.
| | | |
| --- | --- | --- |
|   | 2020 LEXUS LX 570 | 2020 BMW X7 xDrive40i |
| Engine | 5.7 Liter V-8 | 3.0 Liter Turbocharged Inline 6-cylinder |
| Horsepower | 383 @ 5,600 RPM | 335 @ 5,500 RPM |
| Torque  | 403 lb-ft @ 3,600 RPM  | 330 @ 1,500  |
| Drivetrain | Full-time 4 Wheel Drive  | All-wheel drive (xDrive)  |
| Turning Circle | 38.7 feet  | 42.8 feet  |
From a performance perspective, cars like these two have impressive inclusions, but the larger engine is a huge plus for the LX 570. The 5.7-liter V-8 engine of the 2020 Lexus LX 570 produces 383 horsepower and 403 pound feet of torque. That's 48 additional horsepower and 73 more pound feet of torque than the smaller, turbocharged inline six cylinder engine of the 2020 BMW X7 xDrive40i.

Safety and Security
Available safety features are at the top of everyone's mind. But it seems that they take more of a priority in the mind of Lexus engineers than those of BMW's engineers. While the 2020 LX 570 and the 2020 BMW X7 xDrive40i have a number of safety features in common, the LX seems to have few more crucial features that come standard at no extra cost to you. When comparing the two makes and models head-to-head, it starts to become clear where one model pulls out ahead.
| | | |
| --- | --- | --- |
|   |  2020 LEXUS LX 570 | 2020 BMW X7 xDrive40i |
| Forward Collision Warning | Standard     | Standard |
| Automatic Emergency Braking | Standard | Standard |
| Pedestrian Detection | Standard | Standard |
| Lane Departure Warning | Standard | Standard  |
| Adaptive Cruise Control | Standard | Optional |
|  Airbags | 10  | 8 |
The 2020 Lexus LX 570 comes standard with the Lexus Safety System+, an impressive suite of standard safety features like Pedestrian Detection and Dynamic Radar Cruise Control. BMW requires you to purchase those features in a rather expensive package in order to match the LX 570. So when it comes to safety and security, it seems clear that the 2020 Lexus LX 570 edges out the 2020 BMW xDrive40i.
Comfort
Comfort for the driver and their passengers is of paramount importance to any car maker. When it comes to the 2020 Lexus LX 570 and the 2020 BMW X7 xDrive40i that standard remains true for both. However, when you take a closer look at the two models, it becomes more clear that the 2020 LX 570 edges out the 2020 BMW X7 once again.
Seats More: As you're about to read, the 2020 LX 570 offers more room in some crucial areas. Not only does it provide more comfort, it also provides more seats for more people to experience that comfort. The 2020 LX 570 seats eight passengers, compared to the 2020 X7, which only seats seven passengers.
More Legroom: The 2020 LX 570 provides more legroom for the driver and front passenger, making those long road trips or simple trips to the grocery store and around town that much more comfortable. 
More Shoulder Room: We understand that shoulder room might not be the first thing you think of or consider when deciding on a new vehicle. However, it does make a considerable difference in the comfort you and your passengers experience in your vehicle. The 2020 Lexus LX 570 edges out the 2020 BMW X7 xDrive40i in this department as well by providing more shoulder room for the driver, front passenger, the middle row passengers, and the rear passengers.
Off-Road Performance
While both the Lexus LX 570 and BMW X7 xDrive40i are luxury vehicles, at their core, they are still sports utility vehicles. When looking at the two, it seems the Lexus engineers kept that core in mind when designing the 2020 LX 570.
The 2020 LX 570 features a robust ladder frame, standard full time four wheel drive system with two speed transfer case, and lockable TORSEN limited slip center differential, Crawl Control with Turn Assist and Active Height Control. We understand if that sounds like a lot. What can we say? We value performance. Anyways, to put it simply, it all works together to offer greater wheel articulation and control to better accommodate rough conditions. By comparison, the 2020 BMW X7 xDrive40i features a lighter-duty unibody frame and all wheel drive system, and Crawl Control and Active Height Control are nowhere to found on the order sheet. The LX also boasts a higher ground clearance than the X7, making it easier to overcome any obstacles that may stand in your way.
While you may not be looking to take your vehicle off road anytime soon, these features offer value on the street as well. Increased off road abilities translate to better on road performance during rainy conditions. When it comes to the 2020 LX 570, you can drive with peace of mind knowing that your vehicle is prepared for any conditions that your journey may throw at you.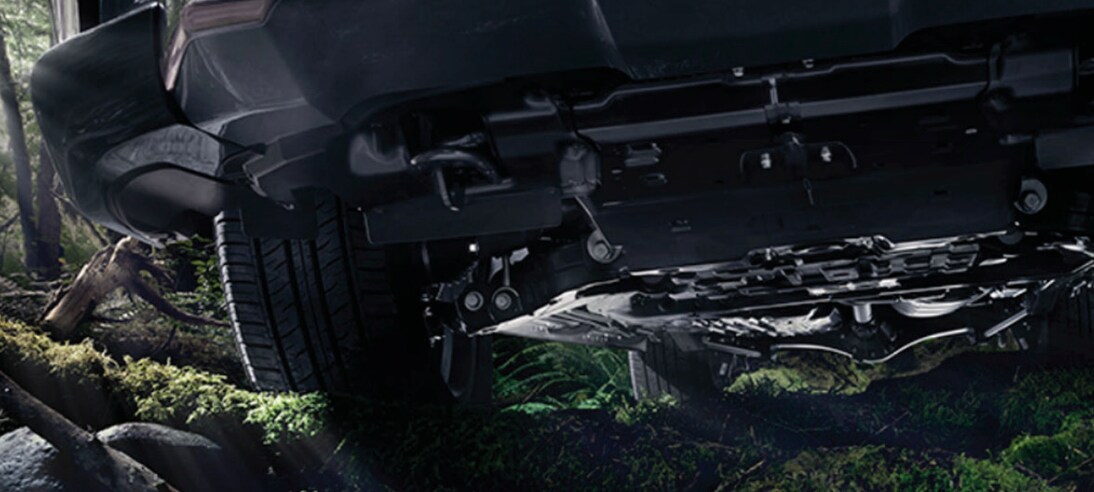 Urban Mobility
As you just read, the 2020 Lexus LX 570 clearly outshines the 2020 BMW X7 xDrive40i off road. We believe the LX also outshines the X7 in an urban environment as well. With a turning circle of 38.7 feet, the LX has an advantage over the X7's 42.8 feet. That advantage combined with the shorter wheelbase of the LX, narrower track and taller ground clearance, helps make the LX more agile off road, and easier to park and maneuver in tight spaces.
Warranty
When it comes to standard warranties, Lexus offers some of the best in the industry for both new and certified pre-owned vehicles. When it comes to the new 2020 Lexus LX 570 and the 2020 BMW X7 xDrive40i, Lexus outshines the competition once again. The LX 570 comes standard with a six year 70,000 mile powertrain warranty for the engine and driveline, while the X7 has a shorter, four year or 50,000 mile powertrain warranty.
Overall
After taking all of these things into account, it's clear that the 2020 LX 570 outshines the 2020 X7 xDrive40i. When you're looking for space, elegance, and capability accompanied with a long-lasting warranty all in one gorgeous package, stop by Hennessy Lexus Gwinnett to get behind the wheel of a 2020 Lexus LX 570. Our staff is ready to answer your questions and find you a vehicle that perfectly fits your needs.