2019 LEXUS RX 350 VS. BMW X5
Many buyers of luxury midsize SUVs find themselves deciding between the 2019 Lexus RX 350 and the 2019 BMW X5. While both of these vehicles are well-rounded and have no major flaws, they are different in many ways. Depending on your needs and preferences, you may find one of them more appealing than the other. Find out how the 2019 Lexus RX 350 stacks up against the 2019 BMW X5.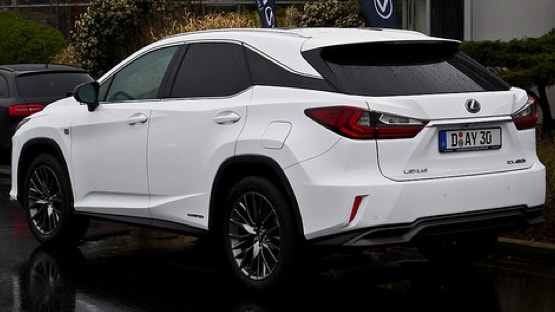 Measurements
 In terms of measurements, the 2019 Lexus RX 350 has a number of advantages that translate to better performance, comfort, and fuel economy. For starters, the SUV's base curb weight is almost 600 pounds lower than its rival's, which contributes to faster acceleration and better fuel economy. If you need to drive frequently in the city, you will also appreciate the Lexus RX's smaller dimensions. It is 1.8 inches shorter and 4.3 inches narrower than the BMW X5, making it easier to maneuver in close quarters and parking lots. 
Despite being small on the outside, the Lexus RX 350 still manages to offer more interior space than the BMW X5. It gives you 3.7 inches more legroom in front as well as 0.6 inches more legroom and 0.4 inches more headroom in the back to ensure a comfortable and relaxing ride.
Luxury & Convenience
Both the 2019 Lexus RX 350 and 2019 BMW X5 come with an extensive list of comfort and convenience features. However, the Lexus has a number of features that you will not find in the BMW, such as a standard remote-start system and an optional 115-volt a/c outlet.
The remote-start system is especially useful in the winter because it allows you to warm up the SUV's engine and cabin before you step out of your home. The AC outlet allows you to run and recharge your laptop and other small appliances in the vehicle without having to use special adapters.
Safety & Security
When it comes to safety, the 2019 Lexus RX 350 has a slight upper hand over the 2019 BMW X5 with a few additional thoughtful features. Both the front and rear seatbelts in the Lexus have pretensioners that can tighten the belts and prevent dangerous slack during a collision and force limiters to reduce the pressure exerted on passengers. The rear seat belts in the BMW do not have pretensioners.
Also, the Lexus RX's front seat belts are height-adjustable to accommodate drivers and passengers of different heights. A better fit results in greater comfort and lower injury risk during an accident.
Another notable 
SAFETY FEATURE
  in the Lexus is the optional Auto Brake system. This system uses rear sensors to monitor the situation behind the SUV while it is backing out and automatically applies the brakes if necessary to avoid a rear collision.
Whether you choose the  2019 LEXUS RX 350 or the 2019 BMW X5, you will have an SUV that can serve you well for many years. Nonetheless, the Lexus seems to offer better value for money because of its significantly lower price, better fuel economy, and longer warranty. If you are interested in getting the Lexus RX 350, stop by for a
test drive at Hennessy Lexus of Gwinnett.